a guide on Korean food
Reputed for the variety and its quality of its cuisine, Korean food's classics cannot eclipse a unique repertoire to the glory of taste in all its forms and in all modes of preparation. All the dishes and side dishes are shared on the table, the guest generally having a bowl of rice and another of "private" soup to be able to peck at leisure. The main course can be served individually and some meals can even follow a more classic gastronomic sequence, but the advantage is to be able to alternate tastes in a free and often creative way.
kimchi - 김치
In a nutshell, kimchi is fermented vegetables. The main ingredients include Chinese cabbage or salted napa cabbage, radish, onion, garlic, and spices. This dish can be quite spicy due to the red pepper flakes and can give a meal a good kick! Whenever you walk into a Korean restaurant, you will no doubt find kimchi on the menu. This Korean staple and is served as a side dish or is added to the main meal due to its explosion of flavour. Due to its primary ingredient, napa cabbage, the dish is a good source of vitamins K, C, and B6. The fermentation of the vegetables also provides excellent probiotic qualities. It is believed that kimchi can help with conditions such as digestive issues, inflammation, and general gut health. The dish is also high in fibre, calcium, iron, and potassium.
order now
Order the best kimchi in Singapore
---
bibimbap - 비빔밥
Traditionally, bibimbap is a rice dish topped with fresh and cooked vegetables and a red chili paste called 'gochujang'. Beef is sometimes added – both raw or cooked – and often a fried egg is also placed on top. Vegetables that are usually used are carrots, cucumber, spinach, bean sprouts, shitake, mushrooms and braken fern. The dish is presented with the vegetables and meat on top and then mixed in together with the rice before being eaten.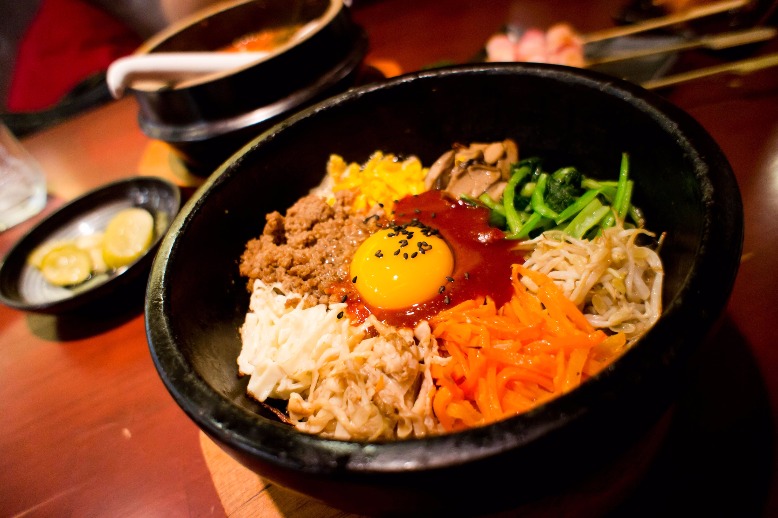 order now
---
korean fried chicken - 치킨
Crunchy, crispy and tasty, the korean fried chicken is the mother of all comfort foods. Fried chicken is very popular in South Korea and is eaten as a main meal, an entrée or as a snack. The main difference between the Korean fried chicken and other styles of fried chicken is that the first one is lighter and is usually fried twice to create very crispy chicken. Do you also know that the combination fried chicken and beer is part of the Korean alcohol culture? There comes the chimaek 치맥 concept: the alliance between chicken and maekju (beer). This dish is generally reserved for the evening snack and one of the most prominent soul food for Koreans.
order now
---
Korean snacks and liquors - 스낵 - 전통주
Like in the Myeongdong district of Seoul, the location of the the iconic street food, you can enjoy a wide variety of snacks, both sweet and salty, from starter to dessert: tteokbokki , grilled cheese and rice cake, hot dog, mochi, etc. exclusively available in your favorite Korean grocery stores across Singapore. For any uncomplicated choice, a package of delicious instant noodles can be a comfortable choice to savor. Any good South Korean dinner party can be even more welcoming with refined alcoholic beverages. Some soju with close friends, some wine to accompaign your tasty snacks or the most popular beers will for sure be a good choice!
order now
---
More facts about Korean food
There are hundreds of types of kimchi
If you have been to any Korean restaurants, you may have had various versions of kimchi. How many? 2, 3? In reality, there are hundreds! They can be prepared with various vegtables and in various ways. The most known remains the beachu kimchi, a classic one with Chinese cabbage marinated in gochujang sauce. It can also be prepared from cucumber, white raddish or with lotus roots. Each year a South Korean will consume an average of 18 kg of kimchi per year!
The case of banchans
Most of the time you visit a Korean restaurant, you most likely have been served at least three of five small accompaniments along your main dish, these are called banchan 반찬. They can be fermented cabbage (surprise, kimchi again!), but also steamed plants, stir-fried vegetables or pancakes! The formal meals are, the more bancahn there will be, to impress the table gallery!
Drinking: a culture in its own right
Contrary to popular belief, South Korea holds the prize for the world's largest heavy drinker (13.7 shots per week), ahead of Russia. Soju occupies an important space in typical Korean meal parties. It plays a big role in social relations, but comes with a certain etiquette: the custom is to have someone else serve your glass of soju or refuel everyone. In Korean tradition, both hands must be used to give and receive a glass of soju.
Is Korean food healthy?
Well, did you know that the WHO has recognized Korean cuisine as exemplary from a nutritional point of view? It is balanced with flavored foods originated from plants (representing 80% in a dish). In addition, the fermented foods are endowed with antioxidant and anticancer properties. According to Korean tradition, five colors must compose a dish: green for the liver, red for the heart, yellow for the rattle, black and white. They symbolize the vitality of the nature and offer a light cuisine.
Is the Korean cuisine that spicy?
Some dishes are spiced with the famous Gochujang, made from red peppers that are fermented. Generally, you can opt to add more or less of this spicy sauce, as in the bibimbap for example. All the dishes that make up the meal are not spicy, you can still dose according to your palate.

Korean cuisine is eaten with chopsticks and a spoon
The spoon is for soups or rice broths and the chopsticks for everything else. The chopsticks are very often made of metal in restaurants, as are some bowls. Do you know why metal is used a lot in table services in Korea? This production is dated from the old royalty days, because poison was more easily detected on metal containers.
Which other food haven't we mention in this guide?
As rich the Korean cuisine is, there are still too many tasty dishes that are also served from Korean restaurants in Singapore:

- Bulgogi 불고기 : thin slices of meat (like tender pieces of beef) marinated in a tasty mixture of soy sauce, sesame oil, but also rice wine (or even apple juice!), with onions, mushrooms and more vegetables.
- Samgyeopsal 삼겹살 : made from slices of pork belly, generally served as an evening meal. It is usually served with ssamjang (a thick spicy paste for wrapping) and ssam, known as a set of vegetables (lettuce and perilla leaves) to use for wrapping the meat with onions, mushrooms, garlic and kimchi
- Japchae 잡채: made from cellophane noodles with spinach, carrots, onion and mushrooms, possibly mixed with meat cut into thin slices, previously marinated in soy sauce and sesame oil.

Can you order Korean food in Singapore online?
Yes a lot of Korean restaurants partnered up with foodpanda so you're only clicks away to get your chosen Korean dishes delivered at home, at the office or anywhere else. See below, a wide range of Korean restaurants islandwise!
---