Foodpanda Scholarship Winners announced!
Friday 30th September 2016,
Friday 16th September 2016 was the last day to submit your applications for the foodpanda scholarship 2016.
The foodpanda Scholarship Committee congratulates the selected winners Jemie Then & Lee Zhen Zhen from Singapore Management University. You can read their interview here.
We have received many valuable marketing insights during the period and will get back to all the candidates that provided a complete application.
THANK YOU FOR THE PARTICIPATION, we will update the page with our next scholarship opportunity in the next months.
Stay tuned!
General information
Foodpanda is a leading mobile and online food ordering marketplace, currently available in 40 countries across 5 continents. Foodpanda Singapore was established in 2012 and currently represents over 400 premium restaurants across the city. Our website and mobile app services allow you to order food online easily and fast from a wide range of places. Some of the Singapore's most beloved vendors can be found on our platform, as well as huge array of cuisines and dishes.
The scholarship includes:

One time scholarship award of 3,000 SGD in cash

Implement your vision during a summer internship at the foodpanda offices

The first 100 students submitting their complete application materials receive a 30,00 SGD food voucher.
How can I apply?
To apply for our scholarship just submit your marketing strategy plan. Download the marketing plan guidelines here. More information about foodpanda is available here.

Conditions
Eligibility Guidelines
- Applicants should be full-time students enrolled for academic year 2016 in one of the universities in Singapore
- Applicants must be based in Singapore at the time of applying
- Applicants will be required to send a marketing plan
- Enter as individual or as a team. Prize money will be divided amongst members of the team
- Foodpanda employees and their family members are not eligible for the scholarship
Your Application
Candidates are invited to download the application form and to send them via email together with the requested supporting documents to [email protected] In order for us to process your application, please submit the following documents in PDF-format:
1. Complete the application form, available HERE
2. Proof of enrollment for academic year 2016 (2015/16 and/or 2016/17)
3. Latest academic record
4. Marketing plan strategy
5. Send your application via email
Time Frame
Academic year 2016
16th September 2016


Deadline for submitting applications

Application evaluations

30th September 2016


Successful candidate notified on foodpanda website and via e-mail
Selection Committee
The Scholarship Selection Committee develops, reviews and assesses the criteria of the foodpanda Scholarship program. This includes the review and evaluation of all proposals submitted under the above conditions.
For the 2016 application call, the foodpanda selection committee is composed of Emma Heap, Managing Director, and Alexander Hihler, Online Marketing Department.
Meet our Hong Kong Scholarship winner!
We are glad to introduce you Dandan Tong - winner of the foodpanda Hong Kong Scholarship 2016 - pictured below with foodpanda Hong Kong managing director Alex Roth. We had a chat with Dandan after her victory and you can enjoy it in our magazine!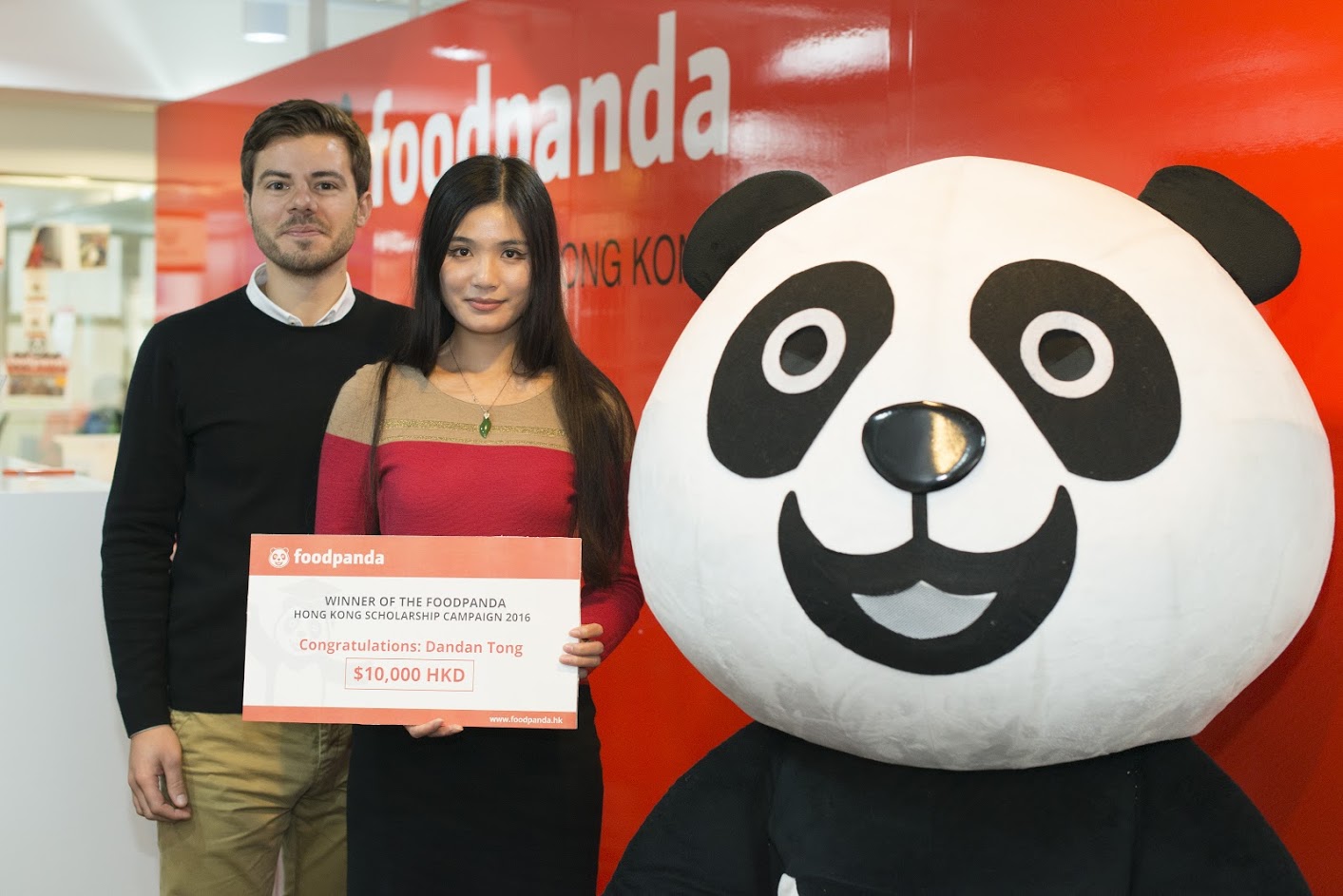 foodpanda wishes all candidates the best of luck!