---
Welcome to your American BBQ in Singapore!
Reliable sources say that America is the land of big portions. Steaks the size of Texas and mountains of side dishes are normality in the land of the free. As are some of the world's best American restaurants: Exclusively for foodpanda Singapore, American chefs from all over the US have assembled to provide hungry palates with everything your heart is missing in local Fast Food. Why not go American today?
✓ Fried chicken delivery ✓ Burger delivery ✓ Fast Food delivery Singapore ✓ Cupcake delivery ✓ Ice cream delivery ✓ American food for lunch
American food catering will hold surprises for even experienced connoisseurs of American food delivery. Heralded by the European colonialisation of the American states, a multitude of ingredients, spices and methods of preparation once led to the origin of a colorful culinary sphere. In both the 18th and 19th century, then, entirely new foods were introduced to the native American's diet, including peanut butter, popcorn, Coca cola and fried chicken. The appeal of American food today has been and continues to be its local nature. South American and North American cuisines can differ tremendously, and only reinforce the image of American food restaurants as the best option when many guests await - for simply all tastes can be met!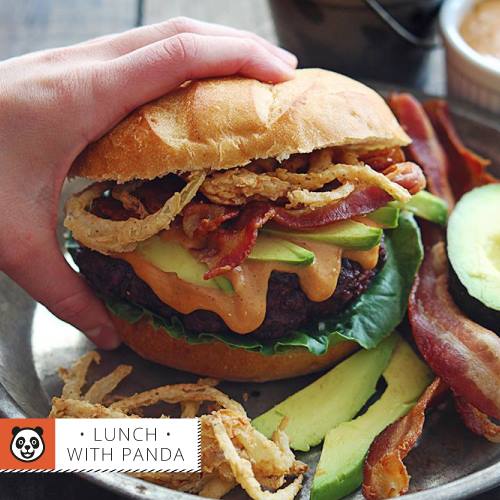 Enjoy American food for lunch with foodpanda restaurants
American food in Singapore is both abundant and omnipresent with foodpanda as your number one source for good American cuisine. Browse our restaurant menus and make a pick- American food catering is best enjoyed online:
The American Classics:
Burger King: Treat yourself to a fast food feast with BBQ Bacon burgers, Tender Chicken Bundles and a Caramel Sundae.
Wing Zone: Expect fried chicken delivery at its best with Wing Zone. Pssst, our tip: Double up with Brownie Bites!
American Seafood
Manhattan Fish Market: For American-style seafood dishes, try a Manhattan Flaming Seafood Platter for the whole family
Cafe ETC.: Get ready for a drunken chicken! Pan seared chicken meets red wine & brown sauce
American Desserts
Winchester Pies: Delight in a fantastic piece of traditional Apple Crumble. Perfect for your lunch break!
Once upon a Milkshake: For America on the go, pick a double chocolate milkshake and your day is saved
Order American food online in just 3 clicks
Your American food buffet is one minute away when ordered with foodpanda delivery services in Singapore. Start out by providing us with the name and code of the area you live in. Next up, browse through 400+ vendors and select your favorite American restaurant Singapore from the listing page. Finally, submit your order to us and wait until your friendly driver delivers. American food in Singapore calling: How can we help you today?