---
Welcome to food catering delivery with foodpanda!
Taken by its definition, we understand catering as the provision of food and drinks in the context of social gatherings, larger events, and professional outings. It is said that the historical origin of catering dates back to ancient China where slaves would provide often extravagant catering services to their masters in times of celebration.Centuries later, food catering delivery has evolved into a competitive economic battlefield in marketplaces around the world.
✓ Lunch box catering ✓ Halal food delivery catering ✓ Chicken rice catering ✓ Catering indian food ✓ Catering buffet for chinese new year
In Asian cultures specifically, no festive celebration of weddings, graduation dinners, christenings and birthday parties is complete without the splendor provided by a diverse catering buffet menu. On foodpanda, benefit from the largest variety of catering restaurants in Singapore- in three clicks, and without the hassle of ever having to cook for yourself. Prior to planning your next event in more detail, have a look at the multitude of options available on our website. Pick and choose your favorite meals from 400+ restaurants, and pamper your guests with the culinary treatment they deserve.
Restaurants offering catering services in Singapore
Deciding for restaurant catering in Singapore is a daunting choice. Will the food arrive hot? Can the chefs be trusted, and will individual chains live up to their public reputation? Finally, what if my guests won't like the meals offered? No risk, no fun they often say. At foodpanda, we believe that ordering catering services should be easy, fuss-free and fun, so that you can focus on the more important aspects of life.
(1) Delifrance Catering: Please the most discerning sweet tooth with a selection of canapes, quiches, and mini French butter croissants.
(2) Shi Fu Ge Catering: Chicken, Pork and Seafood- go for it all with Shi Fu Ge Singapore delivery. We recommend the city's best Hokkien Mee!
(3) Kebabs and Curries Catering: True to its name, both hearty and vegetarian Indian dishes await at Kebabs and Curries Singapore.
(4) Khansama Catering: A truly reputed venue, Khansama delights in offering traditional Indian food delivery to affordable prices.
(5) Old Chang Kee Catering: Enjoy Chicken delivery on a stick with Old Chang Kee Singapore for a truly unique night!
(6) Burger King Catering: For Fast Food definitely the go-to source: Burger King delivery!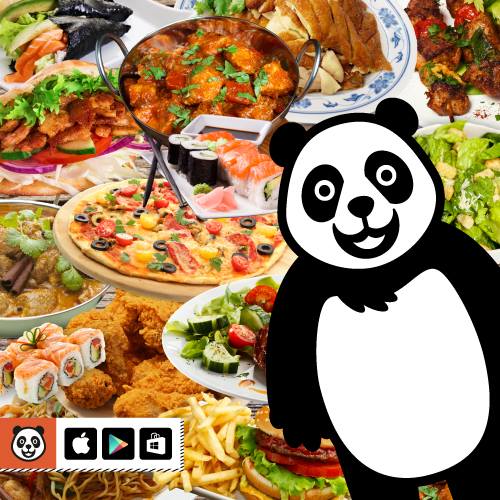 Reasons to enjoy Catering in Singapore
You discovered a catering restaurant that you like, yet are still undecided as to whether you should order food online? Listen to 3 unscientific reasons for why catering in Singapore will ensure your party goes as smoothly as you want it to.
Bento set catering: Only on foodpanda you enjoy access to dozens of partner vendors providing you with high-quality lunch meals to affordable rates. For conferences, informal meetings, or a hectic day in the office, bento set catering will be what you're looking for when the papers pile up.
Catering halal food: We understand that religious considerations make any online order a stressful undertaking. For this reason, many of our restaurants carry a small halal logo, signifying that whichever meal you choose to eat, it will be prepared according to Islam traditions.
Sandwich Catering Singapore: No cooking, no hassle is our motto. Delight filling bread, elegant finger sandwiches and juicy burgers without lifting a single finger. Ordered via app, your food arrives quickly and your guests are happy.
✓ Sushi catering in Singapore ✓ Pasta catering Singapore ✓ Salad catering Singapore ✓ BBQ Catering ✓ Finger food catering in Singapore
Order bento catering in three clicks now
To order food delivery catering in Singapore, no more than three clicks stand between you and your meal:
Download the foodpanda app to gain access to dozens of catering providers in your neighborhood
Browse the catering menus of your favorite restaurants
Sample Appetizers, Mains and Desserts from different venues in a single step
Submit your order, and sit tight until your driver arrives
Enjoy!