---
Welcome to the best Halal food delivery service in Singapore!
Traditionally signifying any permissible object from the perspective of Islamic Law, Halal delivery food today describes one of the world's most popular cuisines. Including both food and beverages, Halal certified cuisine provides guidelines and support for Muslims living after the Shariah. Pork meat, alcoholic drinks, birds of prey and any animal not slaughtered on the basis of Shariah Law all are absent from the menus produced by Halal chefs. On foodpanda, enjoy access to the best halal eateries in Singapore spanning numerous cuisines:
✓ Halal Western food delivery ✓ Halal seafood delivery ✓ Halal snacks Singapore ✓ Halal Pizza delivery ✓ Halal Japanese food delivery
The benefits of Halal food delivery catering
Particularly enjoyable as a fusion of Islamic and Western cuisine influences, we believe Halal online delivery is just what you need when you're hungry and staying at home seems like the only option. And while there may be many superlatives to describe Halal Catering Singapore, not even a hundred words could express the joy of eating a genuine Halal meal. The benefits of ordering Halal Fast Food in Singapore are plenty:
✓ Exhaustive range of Halal certified restaurants ✓ 100% fresh ingredients ✓ Fastest Halal delivery ✓ Competitive meal prices and attractive offers
As part of our Halal food delivery service in Singapore, all foodpanda drivers deliver orders only minutes after your online submission. Once you enjoyed your meal, we are happy to take your feedback. For the most transparent service, and the best Halal Catering Singapore, give us a chance today! Read on to learn about our order process, and the various ways you are able to take advantage of unprecedented flexibility as our customer.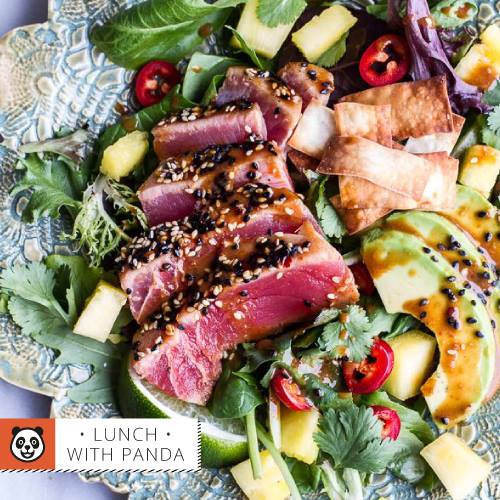 How to enjoy Halal Sushi delivery in 1 minute
Ordering Halal Fast Food in Singapore is done in less than a minue with the fastest food delivery service in Singapore. Here's what to do:
1. Visit foodpanda Singapore via website or mobile app.
2. Select the cuisine "halal delivery".
3. For every halal food home delivery, pay online or in cash on delivery.
✓ Halal food in Orchard ✓ Halal food at Holland Village ✓ Halal food Chinatown ✓ Halal food at Clarke Quay ✓ Halal food at City Hall