---
Order Mexican food delivery in Singapore!
Mexican food delivery has long been among the most popular cuisines on offer on the foodpanda portal. With dozens of restaurants offering you everything related to Mexican food delivery Singapore be assured that whatever it is you are craving for breakfast, lunch delivery or dinner delivery, Mexican dishes will brighten your day. The best thing about Mexican food Singapore delivery definitely comes down to diversity- starting from meat, vegetables and spices, through to salads and desserts, Mexican food delivery Singapore has so many local specialties that it would take years to try them all:
✓ Baja fresh mexican grill ✓ Cafe Mexicana Singapore ✓ Pita Pan delivery ✓ Myra's Beach Club ✓ Nando's delivery in Singapore
How to order Mexican food delivery via app
High-quality Mexican food home delivery is hard to come by in Singapore. Reasons for this are multifaceted,- nonetheless, we managed to assemble a healthy number of restaurants which will be more than happy to serve up some of the world's most satisfying dishes.
When ordering with us, bear in mind that your journey may start via website or mobile application
Share with us your current location and pick from a dozen of delightful Mexican food restaurants
Psst, here's a good tip: Add chocolate desserts, salads and maybe beer to your order!
Submit, and enjoy a siesta like never before!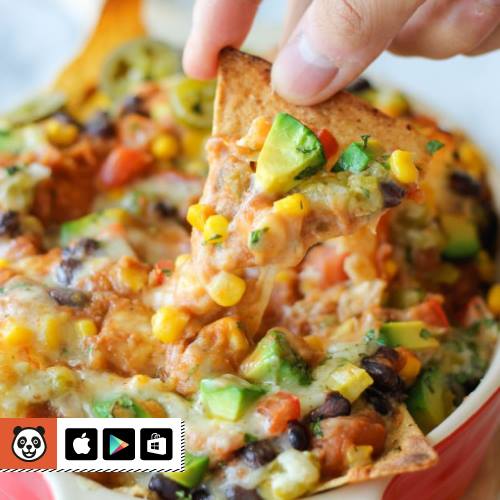 3 Reasons why you'll love Mexican food
As if we seriously needed to give you a reason to indulge in Mexican food delivery Singapore, we sat together and established a list of compelling arguments. Read on and discover why Mexican Burritos, Chili Con Carne, Salsa Dips, Guacamole, Jalapeno Howlers and Baked Corn Enchiladas really are best enjoyed right here. Enjoy!
1 Ever tried a traditional Mexican Enchilada? Let us educate you: Flour tortillas are deliciously filled and fried, to be then served with fries and salsa. Can it get any better? Mexican food delivery Singapore is among the cuisine world's most diverse kitchen. Get acquainted with it today!
2 Rather fancy healthy dishes? With Mexican food delivery Singapore, this wish certainly does not remain unfulfilled. Dive deep into crunchy green Salads, Quesadillas, Fajitas, refried Beans and more with food prepared freshly right after your order is submitted to the chefs.
3 Quality of quantity is the motto for foodpanda! We promise you'll be surprised by the quality of all dishes delivered to your home- whether it is Mexican food delivery Singapore, Western food delivery, Burger King delivery, or Seafood in Singapore you are after.