---
Welcome to Pizza delivery in Singapore!
Said to originate from Naples, Italy, traditional Pizza today holds the status as the world's most popular fast food. Beloved by young and old, Italian Pizza dough and toppings vary considerably from restaurant to restaurant. Based on the chef's experience, for example, the customer may either delight in a very thin, oven-baked crust (as often seen on Spizza menu), or its overseas counterpart, featuring a thick bread base. In the following, you will not only learn about Singapore Pizza delivery with foodpanda and what it can do for you. In sharp detail, we will introduce you to the best Pizza restaurants in Singapore and the dishes they serve. Enjoy!
Reasons for a Pizza delivery in Singapore
The reasons to enjoy Pizza delivery Singapore are plenty in number. The foodpanda Team's top 4:
(1) Pizza delivery is as flexible as you are
A dish ordered conveniently and to affordable prices, Italian Pizza is certainly among the safest dishes to be enjoyed online.
(2) Wherever you are, whenever you want it
Whatever it is you're doing, things can only get better with a fresh plate of Four Cheese Pizza next to you. Some of the activities we thought of first include watching football with friends, moving house, or a birthday party.
(3) foodpanda knows what you want and delivers
In three simple steps, Singapore Pizza delivery is ordered and subsequently brought to the adress you provided. One exciting Pizza delivery promotion follows the next on the foodpanda mobile application optimized for a faster surf experience.
(4) A world of restaurants, a global cuisine
In the city of Singapore alone, 34+ Pizza restaurants are waiting to take your order. Whether it's Margharita Pizza, Quattrro Stagioni, Hawaiian Pizza or Pizza Al Proscuitto you're after, fantastic dining hours lie ahead of you.
Did you know?
✓ Last year, 5 billion pizzas with 252 million pounds of pepperoni were sold ✓ 350 slices of Pizza being eaten in Singapore every second
✓ Ancient Greeks covered flat bread with tomato sauce and toppings in mud ovens ✓ The first online Pizza order was made in 1994
✓ In 2010, Pizza broke the barrier of sound and reached the International Space Station ✓ The same year, Pizza became the first bitcoin transaction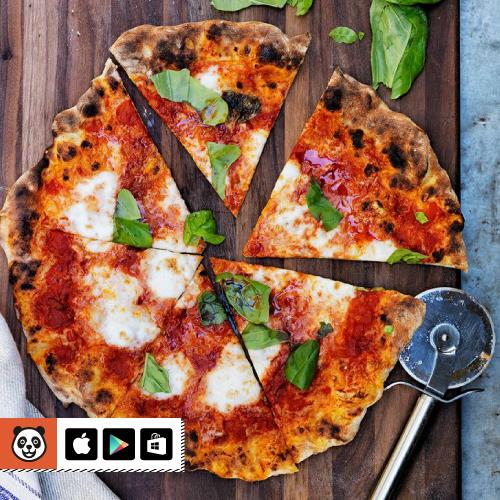 The best Singapore Pizza delivery restaurants
From the comfort of your home, choose and enjoy the treat that is expertly prepared Pizza in Singapore. Ideal for parties, birthdays, weddings, and larger events, good memories are included in the price you'll pay with foodpanda. For Singapore Pizza delivery, browse our extensive range of the best Pizza Restaurants in Singapore now:
✓ At Napolizz Pizza Singapore, you'll enjoy Calzone Pizza, Prosciutto-e- Funghi Pizza, Frutti di Mare Pizza and Rucola Ham
✓ At Tasconi's Pizza, BBQ Chicken, Triple Cheese and Vege Delight pair up with dellicious Mains like Baked Macaroni
✓ Trattoria Italian Kitchen: Go vegetarian tonight with Capricciosa Pizza, Ricotta e Spinach, and Pizza Primavera
✓ At Spizzico, look for Pizza topped with chicken, capsicum, eggplant and zucchini, or Pizza topped with beef salami and chilli
✓ New York Pizza Factory is your dream come true: Choose your free Pizza with each order
✓ Timbre Pizza delivery: Indulge in the thin crust of Teriyaki Chicken Pizza, Cheesy Beef Pizza and Black Pepper Crab Pizza
✓ The Canadian Pizza delivery Singapore menu entails the BBQ Chicken Bonanza, Cheesy Sausage and the Singapura Special
Pizza delivery in Singapore - Our locations
Pizza's key to success lies in its customizability. Singapore Pizza delivery can be adapted to virtually any local or personal taste. Japanese Pizza is eaten for lunch or dinner and squid is one of the basic ingredients. In Germany, a sunny side up egg is considered the ideal breakfast. Order pizza in Central America and you may be surprised to find out coconut is as common as tomato sauce in Italy. So what is the local taste for Singapore Pizza delivery? Find out yourself in the following locations:
✓ pizza delivery bukit timah ✓ pizza delivery serangoon ✓ pizza delivery east coast singapore ✓ pizza delivery woodlands singapore