---
foodpanda is the place to order the best salad in Singapore
It's not always easy to find a healthy takeaway option, but things are a lot easier with the foodpanda online menu and app. We have gathered together information about the finest salad chefs in Singapore, so that anyone seeking out a meal with plenty of nutrients and hardly any fat will know where the best salad in Singapore can be found. Salads come in many varieties, and we have them all covered. You can order up chicken Caesar salads with croutons and sauce, or just go for an Italian rocket, mozzarella and tomato salad.
✓ Salad delivery Singapore ✓ Fruit salad takeaway ✓ Salad Holland Village ✓ Salad east Singapore ✓ Salad Bedok ✓ Clementi salad
Some of the best salad in Singapore also includes a Middle Eastern influence, with some gorgeous tabbouleh and chickpea salads on offer, as well as roast vegetables and couscous. There are ultra-healthy seafood salads, as well as bowls that are filled with every imaginable vegetable. Choose dishes that are loaded up with superfoods like walnuts, pomegranate seeds and sunflower seeds, and have plenty of cholesterol reducing olive oil as well. With foodpanda, the world's finest salads are available from top quality restaurants like Tony Roma's, Spizza and Sumo Salad (where you can order superb sushi salad sets). There are even Indian restaurants like Jade of India offering an irresistible combination of curry and salad.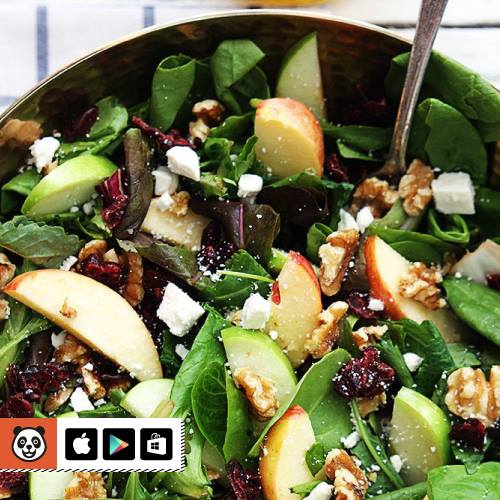 A global selection of the best salad in Singapore
Salad comes in an almost infinite variety, so everyone will have their own favourite ingredients. Customize your own dishes at salad specialists like Fresh Garden, whose chef promises to whip up the best salad in Singapore. But there are endless options across the city:
Go for a signature chicken salad from Wing Zone
Experience middle eastern delights with quinoa and dukkah from the Soup Spoon
Create a DIY sushi salad at Makisan
Stock up on Italian leaves and olives at Oliva
Enjoy an unbeatable Caprese salad from Laffio
As you can see, foodpanda allows salad lovers to find dishes from all over the world, prepared by Singapore's most skilled chefs. Have a meaty, filling salad or complement a weight loss regime with something super-healthy. If you are catering for a party, have an enormous salad bowl from the best makers of salad in Singapore and really impress every guest with your nutritious party food.
Order Sumo Salad delivery via smartphone
foodpanda provides the simplest way to order the best salad Singapore has to offer, so explore what our restaurant partners can whip up for you. If you are stuck at work and want a healthy salad ready for when you get home, ordering is easy with the foodpanda app:
Visit us via smartphone
Browse dozens of salad vendors in Singapore
Tailor your menu based on culinary preferences
Submit - in a few minutes, a chicken caesar salad arrives at your door. Enjoy!
✓ Salad dinner singapore ✓ Salad catering Singapore ✓ Halal salad delivery ✓ Salads food delivery ✓ Soup & salad delivery