---
Seafood delivery from your favourite restaurant
Food paradise Singapore loves its fish, and the country is blessed with quite an abundance of fresh, high quality ingredients from the sea, and plenty of great places that will cook them up for you. If you are a lover of fish, crustaceans, or squid, you'll feel right at home here. You can usually find all kinds of seafood prepared in many different ways across the city. Chinese eating joints will offer quintessentially Chinese dishes. Singaporean ones may not only have the ubiquitous chilli crab, but also offer "live", incredibly fresh ingredients that bring you the wonderful flavours of the sea. International eateries will offer pastas, soups and other dishes featuring calamari, prawns, abalone and other such saltwater or freshwater delights brought in from the waters around Southeast Asia and beyond. You can find the pollock, hard clam, mussel, mud crab, trout, salmon, scallop, mackerel and other types of fish on the menu.
Indulge in seafood pasta and other preparations
If you enjoy Chinese and Singaporean food, then the following restaurants are the places to go:
Hai Zhong Bao Live Seafood offers delicacies like fish maw soup, shark fin soup, abalone, butter prawns, steamboats and clay pots with fish head and other such offerings.
Shi Fu Ge offers a similar Chinese menu, with some specials like the Golden Sand Fish Fillet or the "Ang Kueh" fish head with a signature Asam gravy, or sea cucumber clay pot.
Ding Xiang Seafood offers a long list of crab dishes besides chilli crab and black pepper crab.
Old Hong Kong offers shark's fin soup and sauté, shark bone cartilage mains, abalone dishes, cod, prawns with wasabi, stirred scallops with asparagus and other interesting preparations.
Hui Wei Chinese-Thai Cuisine offers some Thai-style fish preparations including cuttlefish.
Marina Bay Seafood brings sweet and sour fish, teochew style steamed fish, deep fried and other preparations.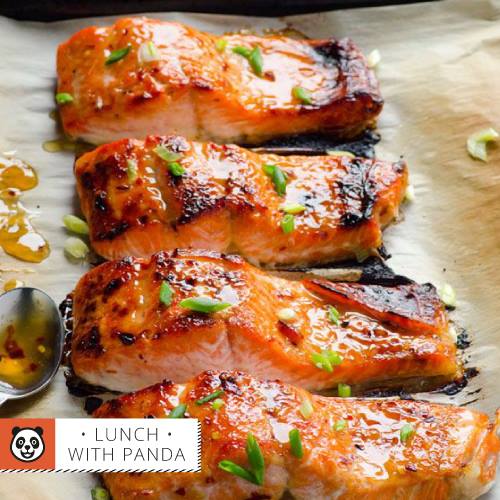 Our favorite seafood restaurants in Singapore
If you enjoy sushi, pasta, curries and grills featuring your favourite fish, then there are several restaurants you could call:
Manhattan Fish Market offers a variety of Western-style seafood dishes in group-sizes.
Sushi Deli has a small but good menu of fresh sushi, platters and chiraishi (a meal of rice with fish).
Yoshinoya brings more Japanese dishes and bowls of rice with the famous ebi fry, beef and salmon combos.
Omar Shariff offers prawns, squid and fish cooked Indian style.
Order seafood online now!
With so many eateries offering a wide variety of preparations of your favourite food from the sea, you may have a hard time making up your mind where to choose from. With foodpanda's online ordering service and app, it has become even easier to place your order. You can pay online or at the time of delivery, and then just sit back and wait for your lunch, dinner or even a fishy brunch on a lazy Sunday to arrive!