---
Order from soup restaurants in Singapore now!
It's raining outside and your mood suffers from it? Don't let lousy weather ruin your mood, order from Soup Restaurants in Singapore with foodpanda delivery services! Considering its warming qualities on even the worst of days, rest assured a good soup will always be a 'pick me up'. Explore the world of intercontinental and Western cuisines with Soup Singapore and over a dozen highly specialized restaurant partners, providing you with valuable organic vegetables, meat, and many more nutrients you need when the rainy seasons comes along.
✓ Soup Spoon Singapore: Tokyo Chicken Stew, Velvety Mushroom Stroganoff, and Tangy Tomato soup with Basil
✓ Timbre Singapore: Enjoy Seafood Chowder with generous chunks of Seafood, diced potatoes and light cream
✓ 30+ additional soup vendors
In three clicks, the best Soups in Singapore are delivered to your doorstep- of course from a friendly foodpanda rider who is looking forward to answer all your questions regarding Soups Singapore and the fastest online food delivery of the red dot.
For lunch and dinner, discover soup delivery
Scientifically proven to decrease mood swings, Soup Restaurants in Singapore will positively influence your diet and health.
Enjoy soup delivery in Singapore together with warm Garlic bread, and refresh yourself with good drinks and amazing desserts. Timbre restaurant rediscovers life in the forest: In its Wild Mushroom Soup, assorted by wild mushrooms are cooked carefully and in combination with a hint of whipped cream. What an adventure! Before leaving us to enjoy your fabulously prepared Soup delivery Singapore with foodpanda delivery, read on and learn everything about our order process. Soups in Singapore are ordered best here!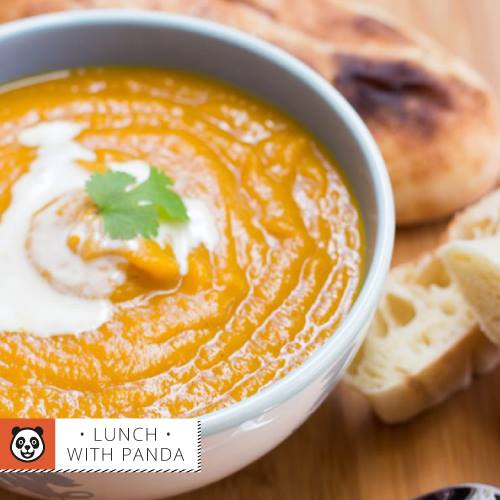 How to order from soup Restaurants in Singapore
On parties, at home or with friends, Soup Restaurants in Singapore can be enjoyed by everyone and at all times. Ordering soups online should be fast, fun, and definitely fuss-free. With our delicate Soup delivery provided by currently over 30 vendors, foodpanda customers can be assured that whichever vendor they chose to order from, all meals will arrive on time and be absolutely yummy. What, you can't believe it? To submit your culinary wishes to the foodpanda team, provide us first with your area code. Then, browse and click your way through all restaurant partners offering Soups Singapore.
When your decision is made, all that's left to do is sit tight until our riders come around your place an deliver your by Dinner snack in no time. Psssst, this is important: Before reordering, we ask you to take 5 minutes to evaluate your Soups delivery in Singapore with us. Was your soup warm and its aroma intensive enough? Was your rider punctual? And how about affordability? We care about your opinion, and cannot wait to provide Soup to you again.