---
Welcome to Sushi delivery in Singapore!
Our team at foodpanda Singapore sure loves Sushi delivery in Singapore! What better way to celebrate the end of a long work day than to sit back and enjoy a wonderfully prepared Maki? Not much we'd say, which is why dozens of our partners offer you only the best of international Sushi cuisine in Singapore. Order Sushi tonight, and enter a world of unlimited joy: White rice, seaweed, freshly caught fish and much more await! To give you an overview of Sushi delivery in Singapore, learn more about our top vendors first-hand here: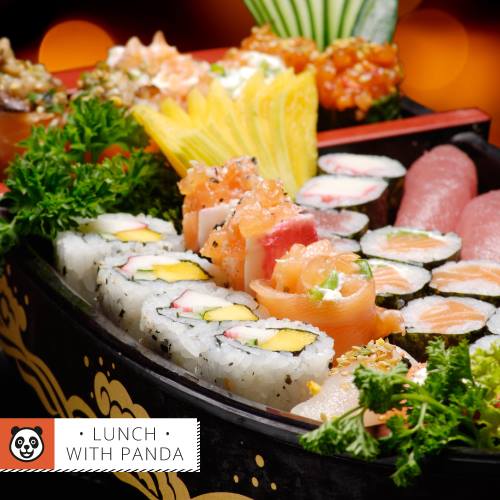 The best Sushi Restaurants in Singapore
1. Sakae Sushi: Sushi delivery is best enjoyed with foodpanda.
Whatever your wishes for a remarkeable Sushi delivery Singapore are, rest assured that with Sakae not much can go wrong. Only the finest ingredients are used to prepare the popular little Maki which, throughout the years, have come to be understood as a must-have of today's Singaporean youth scene. Join them in the delight and experience Sushi delivery Singapore like you never could when eating in a restaurant.
2. Quick-fix Sushi delivery Singapore powered by Makisan.
You dream of fast and hassle-free delivery of only the best Sushi in Singapore? This is a dream come true with foodpanda food delivery. Enjoy the amazing Makisan menu and Sushi delivery Singapore promises to amaze you and your family with dishes that are both enjoyable and healthy. After you browsed a dozen of excellent vendors providing you with Sushi delivery Singapore, submit your complete menu to the Makisan staff. In no time, delicious Sushi is on its way.
3. Sushi Burrito: Sushi delivery Singapore will amaze you!
Let us close by saying that hardly has Sushi delivery Singapore ever been made easier than with Sushi Burrito Singapore. This venue not only will convince you with its open charm and clear-cut Sushi menu. Their prices, too, are amongst the most affordable. We at foodpanda understand that Sushi delivery Singapore should not be pricy, and that Seafood of course has to be fresh in order for it to be truly good. We care about your opinion- so after your order, do not forget to rate us!