---
Order Thai food in Singapore today!
For the most deliciously prepared Thai food, try Thai to go Singapore with foodpanda now. What can you expect? Apart from the freshest ingredients, a fast delivery, and friendly drivers, we guarantee that ordering with us is as simple as ever.
1 To access full meals, desserts, and drinks, visit us mobile app and provide us with your area code
2 Next up, pick and choose your favorite among a dozen of carefully selected Thai restaurants in Singapore
3 Now submit your order, and sit tight for your foodpanda driver to arrive promptly at your home or office address
Enjoy Thai food like you never did before.
Thai food in Singapore is best enjoyed right here! What to order? Start your journey with Nara Thai Restaurant delivery and Tom Saap- a rather traditional Thai to go dish offering you a warming Soup with pieces of Spare Ribs. Next up, Rochor Thai delivery brings you Som Tum, a green Papaya Salad perfect for the hotter summer days. End your delicious Thai delivery in Singapore as glamorous as ever with Charcoal Thai and a dazzling menu of high-class dishes one greater than the next one. Crispy Mini Spring Roll, Tom Yum Seafood, Green Curry With Tender Juicy Chicken, or Sliced Fish with Spicy Sauce- your options for the best Thai food in Singapore are endless.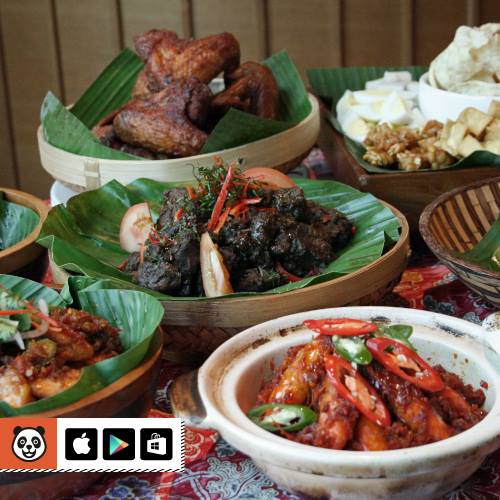 Benefit from the best Thai food in Singapore!
We at foodpanda Singapore definitely share a passion for masterfully prepared Thai food delivery. Plenty of restaurants in our portfolio have begun to offer delicious meals designed to satisfy even the most discerning Singaporean palate. With the best Thai food in Singapore only three clicks away, online food delivery has just entered a new era: Browse hundreds of unique restaurants in Singapore and find out everything you need to know about their brand, their food menus, as well as their fabulous ways of cooking the dish you'll be enjoying in no time after submitting your online food order to us. The best Thai food in Singapore is guaranteed to make your tummy grumble when considering that all of our partners are committed to delivering food in the shortest amount of time possible. In this partnership, it has been and will be the foodpanda Singapore customer who benefits the most from endless culinary choice.
Enjoy the best Thai food in Singapore in a variety of options:
✓ Corporate Event Catering
✓ Thai Vegetarian food in Singapore
Many alternative options will ensure you find just what you're looking for on our Thai menus tailored to your taste. Explore foodpanda Thai food delivery in Singapore today, and return soon for delicious discounts and amazing special offers. Thai food Singapore galore!