---
Order Alcohol delivery online now!
Are you having some friends over tonight, but it seems as work will not let you off on time to buy drinks before? Or are you having a spontaneous night out with your best friend and you are looking for a fast wine delivery in Singapore? Make use of foodpanda, and delight in alcohol delivery like you never have before! Buy your favorite wine online spontaneously and do not get stressed about ordering alcohol delivery before your guests will arrive. Order beers online to complement a delicious German dish or some tiger beer to serve with some typical thai food. Red wine, white wine, gin& rum, alcopops represent only a few of the other drinks to choose from with the fastest alcohol delivery in Singapore. East of avalon wines on the other hand focuses as its name indicates on a wide range of exclusive wines.
Explore Wine delivery with the foodpanda mobile App
Alcohol delivery in Singapore makes your unscheduled dinner or party a hit - girls! buy wine online easily- guys! Use alcohol delivery in Singapore and choose from a wide range of Champagne, Rums and beer to get the party really started. Wine delivery in Singapore direct to your doorsteps with foodpanda in an easy and convenient way. Alcohol delivery makes it possible to choose from a wide selection of alcohol without any effort, by visiting foodpanda.sg.
The Health Benefits of Red Wine
It is now possible to enjoy your favorite alcoholic refreshments and beverages in the comfort of your own home thanks to the foodpanda delivery service. Whether you are having a party or just fancy a quiet drink after a long hard day, foodpanda's online order service means you can simply log online and pick up your favourite beverages in a fast, efficient, and wonderfully affordable way. With enough variety to cater for every taste you can now use out superb online service to cater large parties, taking the hassle out of shopping for alcohol at the shops and ensuring you never have to carry heavy bags home with you.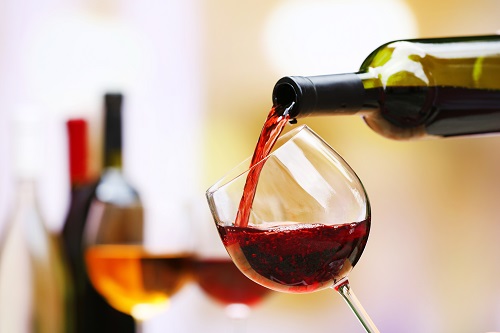 Discover Restaurants for Alcohol delivery in Singapore
There are wide varieties of outlets that now provide you alcoholic drinks, some offering dedicated beverage home delivery services and others providing fast food or even party catering services. Alcohol delivery is perfect if you are planning a party or even if you are half way through your night and need to top things up. Thanks to foodpanda there is a myriad of alcohol delivery services available for you to choose from. Some of the most popular outlets include:
1 Han Pan: Serving popular traditional Chinese beverages such as black raspberry wine, Korean Ginseng, herb Wine and Cass Beer. A great way to sample some Chinese delicacies if you are not already familiar with them.
2 Indian Curry House: Famed for its array of excellent French, Australia, and Spanish Wines. Offering both reds and whites along fabulously prepared Indian food, the Curry House has a terrific wine list.
3 Pizza Fabbrica: Enjoy Ciders, Red Ale's, Bitters, and even some rather impressive sparkling wines.
4 Wine BOS: A dedicated alcoholic drink outlet that really offers the final word in alcohol delivery. Offering wines from around the globe, a wide selection of beers and some top quality Champagne. Wine BOS has everything you need.
Whatever your alcohol needs there is definitely something for you online at foodpanda. With dozens of excellent alcohol outlets and restaurants all offering super quick delivery and a great range of deals you will never be caught short when hosting a party ever again. It's also worth noting that all of these alcohol delivery services charge only a nominal fee for their services, making it more affordable than ever before.
Refreshing alcohol delivery galore: Order alcohol delivery today!
Why wait? Visit us online and explore the foodpanda range of carefully sourced and painstakingly selected beverages. Why not add a healthy salad to your white wine tonight? Whether you are in the mood for traditional English cider, nicely bittered pale ale, sparkling wine, champagne for that special occasion or classic Chinese rice and herb wine you can now get what you want from foodpanda. You can now even order you favourite alcoholic beverages using the handy IOS compatible app that can be downloaded onto smart phones.
The best alcohol delivery services in Singapore on one site? foodpanda.sg is indeed your main source when it's about refreshing beers, wonderfully cold soft drinks in summer, or hot coco on a rainy day in the city office. Find out why alcohol delivery services are often unreliable and overpriced, and you'll quickly come to understand that foodpanda's offering is second to none to actually visiting alcohol vendors in-store. We cannot promise you a 1 hour alcohol delivery, however are more than willing to proclaim this: Ordering alcohol delivery has been and is among the favorite pasttimes of Singaporeans, expats and tourists in this sprawling city-state. Why not sit back, relax, and enjoy the conveniences of online delivery without the hassle of queuing? Visit us today via website or smartpone app, and alcohol Singapore delivery will come to you.