---
Order the best Catering in Singapore now!
You are organizing a party and want everything to be perfect? We understand. For Catering in Singapore, there are indeed a variety of different interests to be met if all guests are to leave your party satisfied: music, theme, location and cuisine choice all can make or break your initially stress-free event. While reliable catering services in Singapore may be rare, we promise you foodpanda delivery won't disappoint even the most discerning foodie. Enjoy the luxury of unique Catering in Singapore, the city of the Red Dot: Pick and choose from the best Singapore caterers, and order just what you need for a Mexican fiesta, the Graduation celebration of your dreams, or a Wedding everyone will talk about.
Mobile catering services
Take Home Orders
Special Events Catering
Corporate Catering
Sit back and enjoy the Catering in Singapore with foodpanda
We understand that when it comes to Catering in Singapore, no single detail should be left to chance. For that reason, not only are all of our partner restaurants hand-picked. Catering menus, individual and group dishes are chosen carefully so ordering can be done easily and to affordable prices. While catering in Singapore can take on a variety of different forms, the advantages of eating with foodpanda remain the same:
Browse dozens of restaurants to cater your next event - all from the tip of a finger.
Save time on planning by letting our catering partners take care of everything. Buffet or sit-down meal?
Get creative: We prove that Catering in Singapore must not mean that the originality of food gets lost along the way. Order dishes to satisfy every taste,with noodle soups, clay pot, buns or burgers, pizzas and pasta.
Enjoy 100% transparency: After the party is before the party with foodpanda Singapore. Rate your vendor so all your friends can enjoy catering in Singapore the way you did!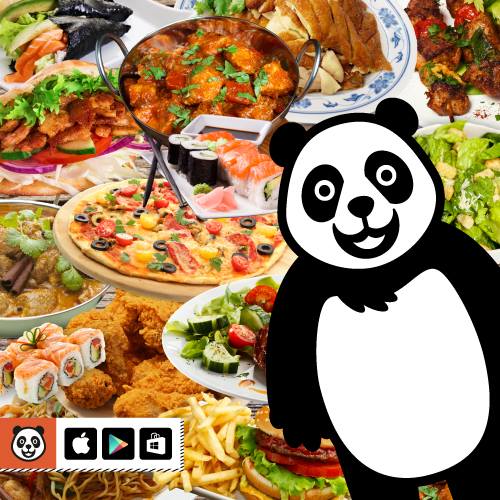 For the best Catering, Singapore is your top destination
Throwing a party? Organizing a big event? Or are you in charge of a birthday celebration? Whatever the occasion and wherever the location, foodpanda is there to help. Give Catering in Singapore a chance and you will not regret it! If you follow special dietary guidelines, foodpanda will be pleased to provide you with a delicious halal catering in Singapore. Same thing for vegetarian delivery. At foodpanda, we love challenges and nothing is too big or too far to stop us! After trying foodpanda catering Singapore, your friends, family and guests will wonder how they could live without your amazing hospitality before. And you will wonder how to make it possible without foodpanda. You have so many choices, you will not know where to start:
Thinking about a light lunch? Simply Salads is your deal.
Feeling more ribs or grilled fish? Privilege Barbecues is what you are looking for!
Going sweet? Try Délifrance!
For every taste and every occasion, foodpanda wants to be there to deliver Catering in Singapore right to you! If we want guaranteed success, do not hesitate even once and go for a safe bet: foodpanda!
How to order Catering services in Singapore
To order the best Catering in Singapore, no more than three clicks are necessary- we promise:
First off, go online and visit foodpanda.sg via computer or smartphone. To enjoy the latter option, ensure to first download the official foodpanda app to access hundreds of the best restaurants in your neighborhood easily online
Next, view over 35 cuisine types including Pizza, Pasta and green salads- who could possibly resits?
To order Singapore buffet catering in Singapore online, submit your wishes to the foodpanda Team as swiftly as possible.
Enjoy good food to affordable prizes. Welcome to food delivery 2.0!