---
Order home delivery halal food now!
When we talk about halal, we think of a specific type of cuisine which is in accordance with Islamic Law. Indeed in Arabic, "Halal" means permissible. Thus, when consuming halal delivery in Singapore one is to ensure that each item stems from retailers respecting the process of food preparation accordingly. Animal execution and meat preparation is especially important in the designation of any halal food delivery offered. Luckily, there is no shortage of truly unique halal restaurants in the city. Not convinced yet? Halal catering in Singapore allows you to sample halal food delivery without the hassle of cleaning and cooking. To receive complete overview of your options, visit us via mobile app and review halal delivery food from the best restaurants for yourself. Enjoy!
Delight in Halal food delivery!
What would you say if we offered you halal fast food in Singapore? To access Teriyaki Chicken Pizza from Sarpino's, simply visit us online. If your taste buds get more excited with local food, then enjoy a halal Sushi delivery from Golden Pillow. To enjoy great halal food delivery, opt for beef lasagna. Discover the opportunities halal food delivery can unveil, and find your favorite meal delivered to your doorstep. This is the principle halal food delivery by foodpanda was built upon: A fabulous dish, reinvented for all lovers of good, healthy good. We promise you that halal food delivery offers you the best of both worlds: Exotic sushi creations and spicy halal ingredients join together in the dishes offered to you by the fastest food delivery service in the city of Singapore.
✓ Hainanese chicken rice
✓ Halal Chilli Crab
✓ Sashimi
✓ Cakes and bread
✓ Halal Beef Burgers
✓ Halal smoked BBQ chicken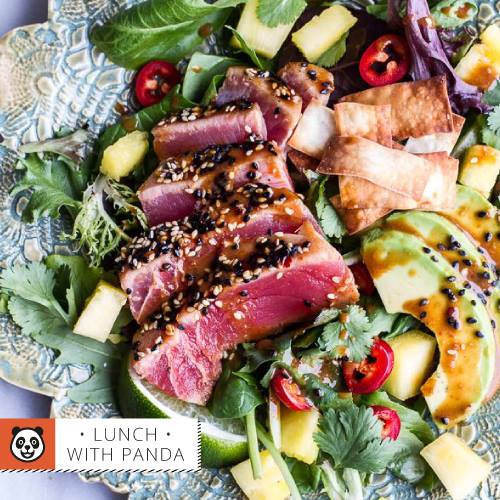 Halal bento delivery is your perfect lunch option!
If you're looking for halal food delivery, be assured that we've got a wide variety of kosher restaurants in our portfolio. In fact, you can now get halal food delivery by simply going online or by downloading the foodpanda smartphone app. No matter the cuisine you're in the mood for, be assured that most will provide you with halal appropriate offers: Chinese, Western, Indian, Japanese, Korean and many more international cuisines have jumped on the bandwaggon to allow for a safe and convenient consumption for the community. In fact, we hope you will find that there is so much choice you'll be spoiled for selection!
Halal food delivery Singapore is closer than you think.
For Western halal, Popeyes with its 9 outlets across the city is very popular, as are Wing Zone, Western Food Singapore Clementi, Swensen's (at Badok Mall, Marina Square, Clementi Mall, Thomson Plaza and Centrepoint outlets) and Yellow Submarines at Toa Payoh. Slushee offers non-alcoholic beverages to boot, which may be your preference.
If it's Chinese food you're after, Golden Pillow, Lotus Secret Bun, Marina Bay Seafood are your number one options.
For vegetarian customers, Halal Vegetarian food will positively surprise you. Look at the menus of Brinda's!
For Indian-type halal, try Bokhara Biryani & Kabab, and for Middle Eastern, check out Islamic Restaurant and Food on Fire.
Swensens offers halal fast food in Singapore to suit your tastes even when time is lacking.
Halal catering in Singapore is best organized with foodpanda!
If you want to organize an event, make it easy and go for halal buffet catering. Identify your favorite vendor, and you will definitely find the perfect caterer to do business with. The Korea food company offers you fantastic variations of halal sushi in Singapore with different options - ready-to eat halal food delivery Singapore or ready-to-cook food. What are you waiting for?