---
Order Italian food delivery today!
Italian cuisine has been renowned around the world for its simplicity yet richness of flavours. Having its origins more than 2000 years ago, the food of the country has gone through generations of influences, amending its taste, ingredients and cooking styles. Around the world you can find Italian restaurants offering pizza, creative or typical pasta dishes and many other simple delicious dishes. So is Italian food: simple and tasty! Check online the list of Italian restaurants in Singapore and simply order an outstanding Italian food delivery in Singapore.
Italian food is closer than you think.
You are probably like million of people a big fan of Italian pizza. They were originally created in Naples, and it has spread throughout the world and has become a favourite choice for lunch, dinner, office takeaway and especially at parties. Today plenty of variable styles and designs of pizza exist. Check out restaurants on Foodpanda and find a pizza you like from chicken and other meat pizzas to vegetarian, seafood or healthier options, traditional or extravagant. Pasta, on the other hand, originated in Sicily and expanded to over 310 specific types of shapes, tastes and varieties. Besides the classic Carbonara or Bolognese, there are thousands of pasta possibilities. Be creative and when you don't have time to cook just enjoy Pastamania delivery!
3 Reasons to order Italian food in Singapore with foodpanda
Offering so much more than just Pizza, our Italian restaurants are reknowned for the diversity of their menus. Whether you're after a minestrone soup from Rocky's pizzeria, a meal combo or healthy garden salad from Crust Gourmet, be assured that foodpanda will surprise you positively.
Italian food home delivery with foodpanda is both easy and fast: Collaborating only with the best Italian restaurantsin Singapore, foodpanda allows you to treat yourself royally whilst benefiting from exclusive culinary offers day in and day out.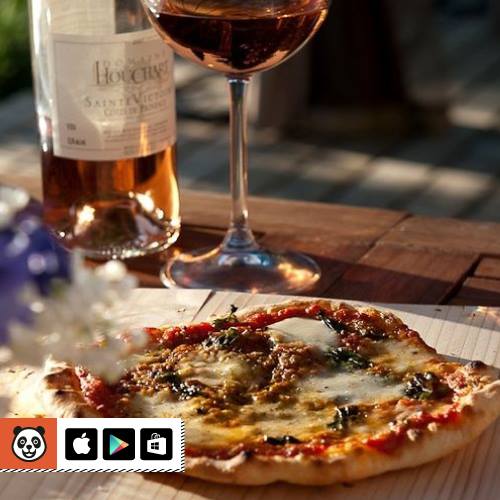 Great Italian restaurant in Singapore
There are a huge number of superb Italian restaurant Singapore for you to enjoy. Cooked with only the freshest ingredients by high quality chefs it has never been easier, faster, or cheaper to get all your favorite Italian classics delivered to your door. Singapore is home to a thriving food culture that takes preparation and customer service incredibly seriously, demanding high standards from all of its food outlets. With a wide range of traditional and contemporary style Italian dishes all made with classic Italian food culture in mind, you will not be disappointed by the quality of the Italian cuisine in Singapore.
Best Italian Restaurant Singapore
With so much choice it is difficult to choose the best Italian restaurant Singapore, however there are some standout candidates.
Pizza Fabbrica offers authentic food delivered quickly to your door and boasts a number of traditional favourites on its menu. Baked Sea bass Fillet with Zucchini, Pasta's, Risotto's and a huge list of anti pasta make Fabbrica one of the most exhaustive and authentic outlets in Singapore.
PastaMania specialises in dishes from all over Italy. Incorporating Italian American influences and operating a relaxed and informal approach to dinner, it is a great place to grab a quick bite to eat.
Nappolizz Pizza Delivery is popularly considered to be one of the best Pizza delivery services in the city and provides great quality pizza that can be delivered to your door quickly. Using only the freshest ingredients and priding themselves on fast efficient service, Nappolizz enjoys a great relationship.
For fusion food, try Socks and Pans. This Italian restaurant Singapore combines the tradition and authenticity of Italian cuisine with the fun and flavour of American food.
High quality Italian Food Singapore
The choice of Italian restaurant Singapore is as good as anywhere else in the world. With fresh ingredients used to make incredible quality food, you will not be left disappointed. Perhaps most exciting of all, thanks to foodpanda, you can now simply log online and get your hands on all your favorite dishes for less than ever before. With all the service providers also offering home delivery customers can now enjoy superb quality Italian food in the comfort of their own home. Combining the pleasure of eating at home with incredible value for money, it has never been easier to enjoy your favorite dishes. So why not check out what foodpanda has to offer today and get your hands on some delicious Italian food.
✈ Travelling? Check out our Italian restaurants in:
India
Hong Kong
Malaysia