---
Welcome to mexican food online!
Known for being fresh and spicy, Mexican cuisine is also great for the health conscious as it is packed with simple, uncomplicated veggies cooked in an enticing way. Balance fiery tomato salsa with cooling guacamole, indulge in soured cream, and enjoy the protein and fibre boost of refried beans or black peas as you delve into the varied and delectable world of Mexican restaurants in Singapore. Food from this region comes in many forms, the most famous of which might be the burrito, the quesadilla, and the tortilla. Wash it all down with a sugary margarita cocktail for that authentic experience.
Where can you get great Mexican food in Singapore?
Singapore is abuzz with restaurants offering amazing Mexican cuisine. Here are three places to start with, in order to get your mouth watering:
1 Baja Fresh: are you vegetarian? Then this is the place to come. Here you will find crisp, fresh salads bursting with avocado and cilantro, and decadent burritos bulging with rice, grilled veggies and melted cheese. This takeout is great for meat eaters too, so everyone will be happy with a food order from here.
2 Cafe Mexicana: do you know your chimichanga from your enchillada? Well, if the answer is yes and it is authenticity you are after, then why not give Cafe Mexicana a whirl? This is one of the best Mexican restaurants in Singapore for sides, too, as it does a wonderful line in corn chips with a variety of dips.
3 Chutney Mary: are you into food fusion? Perhaps you would like poppadoms and chutneys to start off with and then a burrito to finish? If so, this restaurant, which specialises in the cuisines of both Mexico and India, is the place for you.
This is by no means an exhaustive list of restaurants serving the delightful cuisine of sunny Mexico. So have a browse at the full selection of restaurants in Singapore to find which burrito eatery is best for you.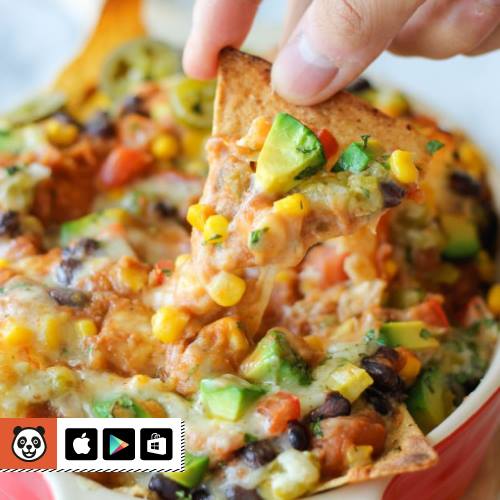 When is a good time to eat like you are in Mexico?
Anytime is the answer. This hearty, tasty food is perfect for a snack, a main meal, a lunch on the go or a sit down dinner with friends. Corn chips, dips, and fajitas are great sharing dishes, so why not opt for Mexico inspired restaurants for all those times when you want to sit back and watch a film with your family or catch a game with your housemates? Guacamole, salsa, tortillas and the main of your choice are all essential items any time that you want to enjoy some delicious party food in Singapore, too. Why not choose one of the restaurants on this list whenever you need to cater for a kids' party for instance, or indeed for any kind of get together.
Order Mexican food on the go with the foodpanda App
Perhaps there is no other cuisine in the world apart from Mexican food whose main dishes are known around the whole globe – who has not heard of nachos, tacos or burritos? A complex mixture of native ingredients and European influences, Mexican food is the perfect choice for every party or barbecue. Even more when you just have to order online via foodpanda and to wait for express delivery in Singapore. Check Mexican food menus and select the food you want to eat. Mexican cuisine mainly relies on corn, beans and other ingredients like guave and mangos – as well as chilli peppers and tomatoes.
On foodpanda, you'll find online a great choice of Mexican food: Baja Fresh, El Patio or Café Mexicana. With just a few easy steps, online or through your mobile phone, you can have fajitas, enchiladas, quesadillas, burritos, tacos, nachos, salads, salsas and chips – you will definitely be spoilt for choice with Mexican food! Select your area in Singapore and see which of Foodpanda Mexican restaurants can deliver to your home. Whether you are feeling like a party and you have already bought the tequila and sangria, but cannot be bothered to prepare the food, or you're in a mood for a light summer snack with a beer, Mexican is the right choice for you – you can select your condiments, sauces and side dishes, and enjoy a variety of flavors and aromas.
✈ Travelling? Fancy some mexican food? Check out our restaurants in:
India
Hong Kong
Malaysia