---
Order a Salad delivery in Singapore now!
You can now enjoy a Salad delivery Singapore by placing orders from top Singapore restaurants. Good salads are fresh, flavorful and healthy in ideal proportions. They can make excellent sides to main courses of meat, Seafood or starches, but they can be main meals in themselves. With more and more people looking for healthy eating alternatives and new flavors, fresh veggies, fruits or cooked meats with sauces or salad dressing have also become toppings for pizzas and stuffing for Wraps in many gourmet and fast food restaurants around the world.
For Singapore food lovers who are either health-conscious, who enjoy combinations of fresh seasonal veggies, fruits, seafood and meats with a variety of exciting dressings, or those who are just hungry enough to do a light refreshing salad justice will find many choices in Salad delivery Singapore. You can order dishes of all sizes and flavors from top restaurants in the city with foodpanda's smartphone app. You can also visit the official website and place your order online, pay during checkout or at the time of delivery, and sit back and wait. If you're eager to try a Salad delivery Singapore and cafes have you covered.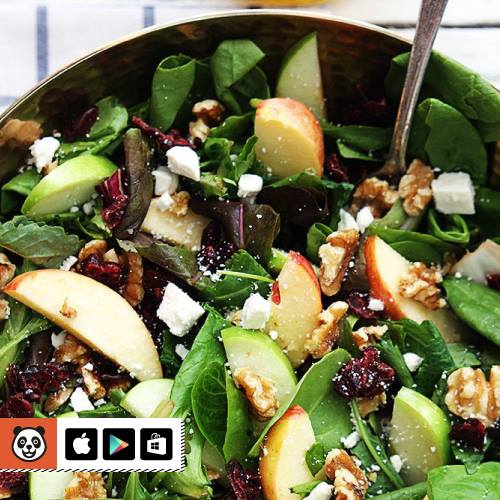 Order delicious Salad delivery Singapore now!
Many restaurants and cafes offer Salad delivery Singapore - start exploring today:
✓ Mixed greens in the Garden Salad preparation
✓ Fruit salads
✓ Chicken Caesar salad
✓ Potato salad
✓ Couscous salad
The 5 best Salad restaurants in Singapore
1 Swensen's is an example, offering several delicious variations of the Caesar salad alone.
2 Nando's Delivery with its Portuguese influence features the Algarve salad and Portuguese salad with or without grilled chicken breast, depending on how light you want the dish to be.
3 Oliva offers Italian dishes with ingredients like pine nuts, cherry tomatoes, home-made vinaigrette and cheeses with fresh veggies.
4 Sumo Salad @Holland Village is all about Salads and Soups, offering Middle-eastern and Asian variations such as the Warm Vietnamese Chicken or Warm Thai beef and the Warm Moroccan Lamb.
5 Japanese-influenced Makisan offers D.I.Y and house versions with grilled unagi, sweet potato glass noodle bases, teriyaki chicken with fresh ingredients and Asian salad dressing flavors like sesame.