---
Enjoy delicious cupcake delivery in Singapore
Do you have a sweet tooth? Are you a cupcake fanatic? Does the sight of these puffy little bite-sized sugary delicacies make you go weak in the knees? Enjoy cupcake delivery in Singapore by placing your orders online, from Singapore's most popular bakeries and dessert stores. Indulge in the fairest, lightest and most creative cupcakes on your own and make a muggy day lovely again. Or share these dainty delights with your friends, family and loved ones on special occasions or parties. Cupcakes are some of the most popular bakery products enjoyed the world over. They can be iced, decorated with candy, loaded with chocolatey indulgence, and most importantly, be very pretty to look at. Singapore is home to many cupcake bakeries, and some have partnered with foodpanda to let you place your orders online. All you have to do is pick up your smartphone and get the app, or visit the official website on your personal computer, place your order online, pay then (or on delivery) and wait for the cupcake treats to arrive.
Treat yourself to cupcake delivery in Singapore 24/7
The city loves its varieties of food, and what better way to end a meal of spicy chilli crab or pizza than with a bite into a delicious, soft one-person cake that is screaming to be eaten? Enjoy cupcakes delivery in Singapore from some of the city's top bakeries including:
Emicakes (Plaza Singapura)
Cuppacakes
Delifrance
Swirls Bake Shop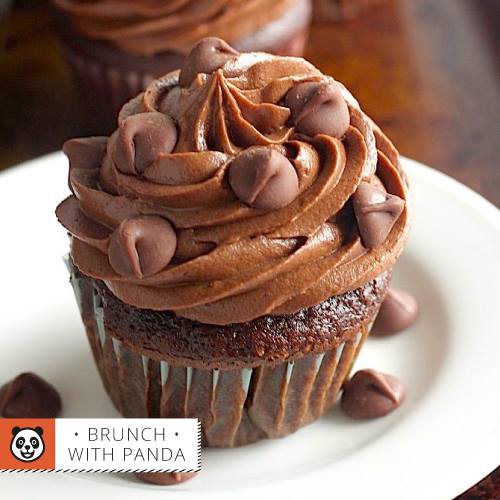 Share Singapore cupcakes with friends.
Swirls Bake Shop is a favourite with locals and is considered one of the best bakeries in the city. It offers very fresh and very generously sized cupcake delivery in Singapore in several sizes. You can get a box of tiny ones for a taste of different flavours, or your favourite flavour in large. Varieties on the menu include
Frostings of Vanilla buttercream meet colourful M&M candies
Dark chocolate buttercream frosting and chocolate sprinkles
Fruity carrot cakes with cream cheese frosting
Nutty peanut butter frosting
Strawberry and white chocolate
Nutella
Delifrance caters to party sizes (or you could have them all yourself!) and some mini alternatives like tartlets, madeleines, croissants, éclairs, macaroons along with some savouries.The Cuppacakes party menu is classic - here you will find butterscotch, chocolate and banana peanut butter as well as exotic varieties like:
Barfi, with almond and cardamom and saffron fresh cream to suit Indian taste buds
Mochalicious, chocolate and coffee fresh cream
Pina colada, with pineapple and coconut flavours, topped with pineapple cream cheese
Classic Red Velvet, with cream cheese frosting
Rosalicious, rose-flavoured with summer berries and a touch of real rose
Utterly Lemony, a tangy-sweet offering with lemony butter, cream cheese and white chocolate frosting drizzled with honey.
The donut craze may have faded into the background for a while, but cream puffs and cup cakes are the new obsession of the city locals. Young and old, local and ex-pat, everyone loves these dainties and the convenience of having them delivered to your home is hard to beat.
Your satisfaction is paramount for us. Founded in 2012, foodpanda has made it it's goal to bring the freshest, most tastiest sweet treats to your doorstep at minimal cost. Therefore, should you feel that we couldn't live up to your high expectations after your cupcake delivery in Singapore has arrived, please do let us know. We're happy to help- for the best cupcakes and the yummiest online order experience.