---
Order Pasta delivery in Singapore now!
Pasta delivery Singapore is one of the several treasures of Italian food. There are more than 310 varieties of shapes and styles. Alla Bolognese, alla Carbonara or any other delicious sauce will give a great Italian treat! Pasta delivery Singapore is easy to cook but the sauce requires to know how to ally ingredients and condiments. If you want to be sure to eat delicious well arranged pasta, just go on foodpanda and place your order online.
Pastamania delivery menu is definitely mouth watering, from Vongole passing by Beef Lasagna or Al Funghi, the choice might not be easy!
At Spizza, order a pepperoni pizza for your partner and delicious ravioli for you
Check out Oliva menu: Mama's pesto with pine nuts and rocket leaves ? Ocean lovers pasta with prawns and scallops ? Or vegetarian pasta with sun-dried tomatoes and mushrooms.
Enjoy Pasta delivery Singapore to your doorstep today!
Pasta delivery Singapore is an Italian staple that is loved around the world, and has been adapted to a number of global cuisines, and why should Singapore be any different?
✓ Lasagne ✓ Linguine ✓ Gnocchi ✓ Ravioli ✓ Spaghetti ✓ Penne
Whether you want simple and traditional Aglio olio (traditional and flavoured with olive oil and garlic) with seafood or pepperoni or want to create your own dish, Pasta delivery Singapore has it all. With the foodpanda smartphone app, you can now order from the city's best Italian and fast food restaurants and enjoy Pasta delivery from anywhere. Place your order on your way home from work and you can dig into your Pasta delivery by the time you get home. You can also order online at the website and enjoy something different for lunch at work. With a large number of international chain cafes and gourmet restaurants offering classic recipes as well as signature dishes with innovative and delicious toppings, you may be spoiled for choice if you are looking for Pasta delivery.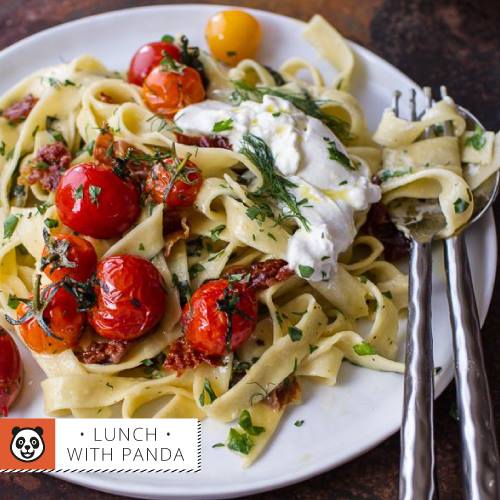 Traditional Italian Pasta delivery is waiting.
If you enjoy the authentic rustic flavors of Italian pasta, Spizza offers a number of traditional dishes:
Pizza Parmigiana (oven baked eggplant and mozzarella with tomato sauce)
Homemade Gnocchi with cream, gorgonzola and ham
For more familiar flavours, try the Pasta Mania dishes which include:
✓ Alfredo ✓ Al Funghi ✓ Arrabiata ✓ Aglio Olio ✓ Beef Bolognaise ✓ Carbonara
Napolizz Pizza Delivery features varieties of linguine, penne and spaghetti dishes with some variations to spice up your Pasta delivery, such as crab meat and vodka with penne. The restaurant also offers some Pasta delivery dishes that are not usually seen on fast-food menus, including ravioli with ricotta cheese and spinach stuffing in a spicy tomato sauce. Classic Pasta delivery is usually simple, where you can taste the flavors of tangy and aromatic olive oil with garlic, or tomatoes with basil.
Swensen's offers treats for seafood lovers in the form of the house recommended Black Pepper Seafood dish with crab-sticks, mussels and fish fillet. You can also try the popular squid ink pasta with crabmeat, creamy salmon and mushroom spaghetti or the traditional mac n cheese Pasta delivery which kids will enjoy. Tony's Pizza and Western Food Singapore Clementi offer a small but popular list of dishes, while Chef Kenny Western Grill and Olivia offer long lists of seafood or Pasta delivery.