---
Welcome to soup delivery with foodpanda!
A busy, beautiful and and above all culinary city, the food culture in Singapore is as diverse as the huge range of tourists who visit every year, and the people from around the world who have chosen to make Singapore their home. With an abundance of cafes, restaurants, markets and food stalls selling tasty snacks to take away, diners in the city are spoiled for choice when it comes to cuisine. One kind of cuisine in particular Singapore offers a great selection of is soup delivery. Most often served piping hot, soup is the ultimate comfort food, and is packed full of health benefits too. People have long espoused the values of nutritious chicken soup for a cold, but the anti-oxidants it contains can contribute to curing a number of ills. Traditional hot and sour soups are also great for cheering you up or just filling a hole when you're hungry for a light meal, and all the delicious fresh vegetables used to make tasty soup to order are sure to put a spring in your step. If you're looking for a soup restaurant in Singapore you won't need to look far - foodPanda's handy service brings them all together in one place, making it easy for you to peruse all of the local soup menus, choose your favourite dishes and have your meal ordered to your door in just a few clicks when you're feeling too lazy to leave the house.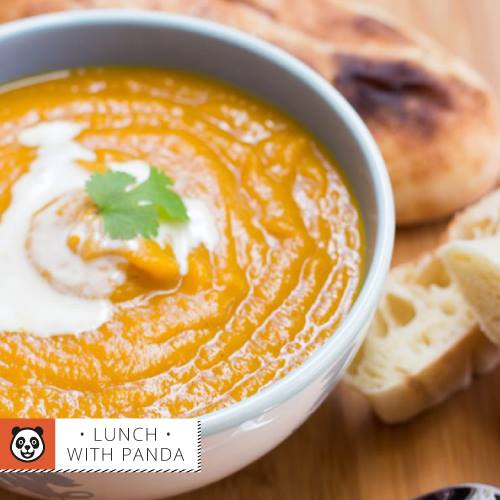 The best soup restaurants in Singapore
Singapore has so many soup restaurants, all with so many delicious hearty and healthy soup options to choose from. Soup is ideal as a light meal, for lazy days when you're feeling under the weather or just don't want to go outside. Luckily, if you're looking for a soup restaurant in Singapore with a delivery services, you'll find there are plenty on foodpanda. Just a few include:
The Soup Spoon
The Soup Union
Tony Roma's
Timbre
Swensen's
Old Hong Kong
3 + 1 Restaurant
Cicely Kitchen
Madrinaa
If you think there's only one form of soup out there you're wrong. Soup can be hot or cold, savoury, spicy or sour, made with meat, seafood or vegetables, simple and plain or packed full of complex flavours, healthy or indulgent. Just a few of the soup dishes you can get delivered from any soup restaurant in Singapore are:
Mushroom Stroganoff
Boston Clam Chowder
Beef Goulash
Roasted Pumpkin
Baked Potato Soup
Sweet and Sour Soup
If you're looking for a soup restaurant in Singapore foodpanda is here to help. Simply visit on the web or install the app to enjoy a world of food on your phone today.